Care that makes a difference.Get Honda Care® today.
No matter where you're headed, Honda Care can help you make the most of every mile
Honda Care provides a wide variety of coverage and services designed to look out for you and your vehicle, so you can enjoy the smoothest ride possible for many years to come.1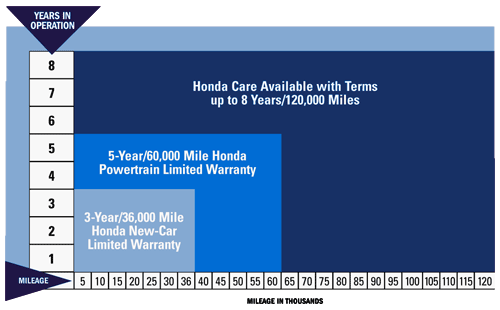 Repairs will be performed by factory-trained Honda technicians using Honda Genuine Parts.3
Choose from four levels of coverage:
New Vehicle Coverage
Pre-Owned Vehicle Coverage
Certified Additional Coverage
Powertrain Coverage (Pre-Owned Vehicles Only)
Component Coverage
New, Pre-Owned and Certified Additional Coverage:
Drivetrain: Engine, Transmission, Differential and Axles
Electronics: Computers, Electronic Components and Electrical System
Chassis: Suspension, Steering and Brake Systems
Heating/Cooling: Air Conditioning, Heating and Cooling Systems
Honda Genuine Accessories: Audio and Communication Devices and Accessories, Navigational and Security Systems
Powertrain Coverage:
Engine
Drive Axle (Front and Rear)
Transmission
Seals, Gaskets and Fluids
HondaCare Coverage Examples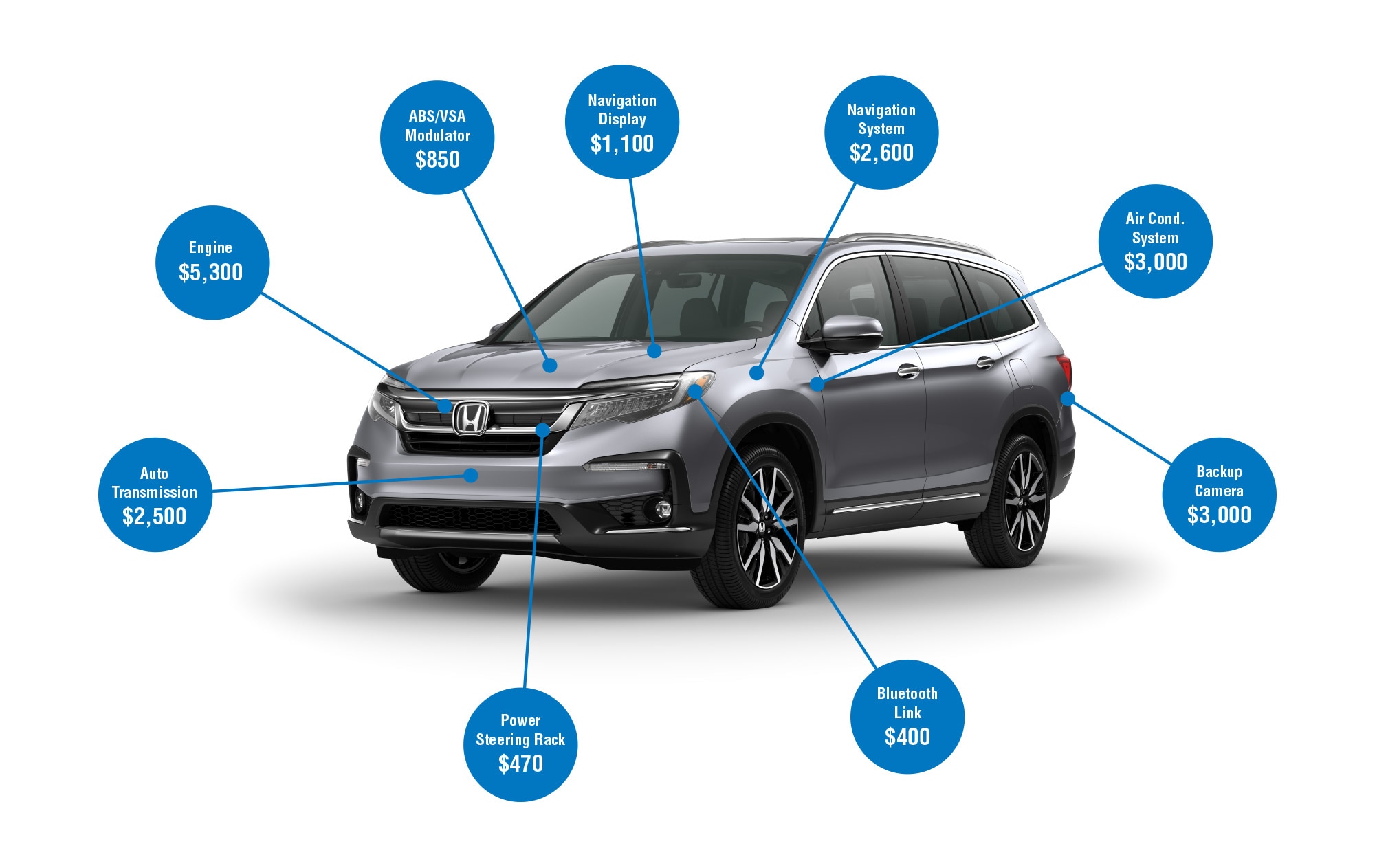 Benefits Include:
Rental Car Reimbursement: Up to $35/day for up to 6 days1
Commercial Coverage is available for new Honda vehicles4
Honda Care Coverage is transferable5
0% interest payment plan6
Roadside Assistance:1,7,8 Family Plan covers your Honda vehicle and your family's Honda and Honda passenger vehicles or Honda motorcycles as well9
Trip Interruption Benefit: Up to $100/day for up to 3 days1,7
24/7 Concierge Emergency Services1,7,10
2 Exclusions include, but are not limited to, body parts, tires, maintenance items, glass, upholstery, trim, carpeting and ornamentation. Claims cannot exceed the cash value of the vehicle.
3 If no Honda dealership is available within towing distance, repairs may be made at a Honda Care-authorized service center.
4 Additional surcharge applies for commercial coverage.
5 Transfer fee may apply.
6 Interest-free payment plan provided by Service Payment Plan, Inc.
7 These benefits are provided by Cross Country Motor Club, Inc., except in Florida, where they are provided by American Honda Service Contract Corporation, and in AK, CA, HI, OR, WI and WY, where they are provided by Cross Country Motor Club of California, Inc. In California, Trip Interruption Reimbursement is provided by American Honda Protection Products Corporation.
8 Up to $100 per occurrence; does not include parts.
9 For Model Year 2015 and newer vehicles. Honda Care Family Plan benefits cover up to 5 Honda or Honda passenger vehicles or Honda motorcycles registered to the same household address.
10 Concierge service not available in Florida.
11 Honda Care Sentinel Services and Sentinel 3/45 are not maintenance contracts and do not provide coverage for the required maintenance services (other than oil and filter changes) specified in your owner's manual or by your vehicle's Maintenance Minder.
12 Express Service is only available at participating Honda dealers.
13 Tire protection not available in New York or Florida. Tire wear and off-road usage are not covered. See your Honda Care Sentinel Services or Sentinel 3/45 contract for details.